03 Aug 2023
Energy Industries Council Publishes its "Survive and Thrive VII 2023" Report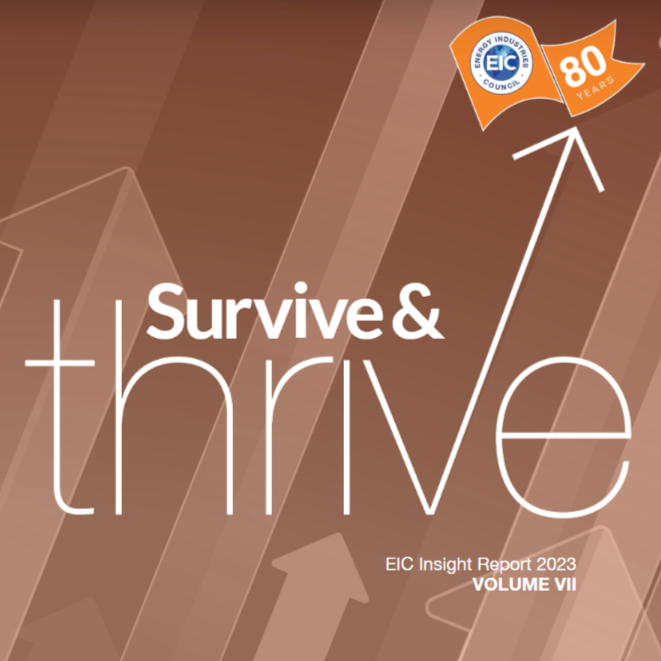 On 25 July 2023, the EIC published its long-anticipated Insight Report, a global initiative developed in a comprehensive methodology using interview techniques to obtain enough information to draw correct inferences and understand the complex factors within each specific business story.
The Report aims to share with the global energy supply chain the EIC member companies compelling business cases and submit them to the EIC Awards body of judges.
On Innovation:
"As to be expected with a strong return to oil and gas in the UK, innovation as a preferred growth strategy is continuing to grow in the UK. About 55% of our UK members surveyed preferred this approach over others and yet this does not appear to be a strategy which our international members are using. Outside the UK, the application of new innovation is much narrower, with a focus on the service and solutions growth strategy seemingly being preferred, being more attuned to support existing assets rather than innovating for new projects.
High levels of activity highlights that it is indeed the supply chain that leads the way with innovation, taking risks, investing for the long term, acting entrepreneurially, believing in our energy market and targeting expansion. And it is this optimism which can and should drive market share growth domestically and internationally."
On Collaboration:
"Innovation is up. And yet collaboration is down. Again, is this another hangover of COVID where we all talked about the "good sense" of working together? We were all aware of the global ramifications, we all spoke about getting to net zero together.
Those days seem to be gone. Collaboration is increasingly deemed not necessary in times where the market is booming, and the order books are full.
Collaboration is still considered just an enabler for other strategies, and only 15% of companies considered it their join-main approach to achieve success and overcome challenges (down from 18% in 2022)."
Read the full report here.
You can watch EIC CEO Stuart Broadley's session, "Accelerating the UK's Switch to a Secure & Net Zero Supply" from Innovation Zero 2023 below.