Thousands attend inaugural clean-tech event at London's Olympia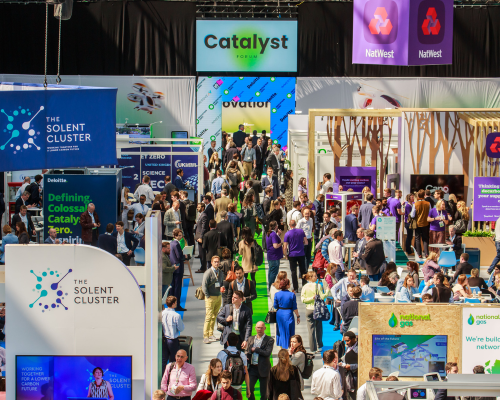 Business was brisk and discussion and debate flowed freely on the first day of the inaugural Innovation Zero congress, the two-day clean technology event being held at London's Olympia on 24-25 May 2023.
The stellar cast of speakers at Innovation Zero put policymakers next to innovators looking for the funding to scale up the commercialisation of low-carbon solutions so that leaders from public and private sectors can deploy decarbonisation solutions in their supply chains to hit the UK legal target of emissions reductions.
Opening day sessions at the event saw businesses, governments and financiers discussing how to work better together to take swift and decisive action to cut emissions. Fittingly, at an event endorsed by the prime minister Rishi Sunak, chaired by former trade minister Dr Liam Fox MP and partnered with the UK government, there was much discussion on day one on the policy context around net zero and the legislative and policy framework to facilitate effective action.
Following Dr Fox's keynote opening the event, leading scientific leaders Professor Johan Rockstrom, director of the Potsdam Institute for Climate Impact Research and Professor Sir David King, founder and chair of the Centre for Climate Repair at the University of Cambridge, offered some insightful perspectives on how the drive towards a decarbonised world will require innovation across every sector.
In a session helmed by the broadcaster and BBC news journalist Joanna Gosling, speakers Sarah Hunter, director of global public policy at ARIA; X, The Moonshot Factor and Ravi Gurumurthy, CEO and chair of the behavioural insights team at Nesta, examined the scale of the challenge of changing the system within a decade, asking, "Can we achieve the impossible?" The answer was yes and it will take some doing but having the right people and organisations involved was crucial to achieving success.
The first day of Innovation Zero was also heavy on high-level briefings and announcements, with must-attend sessions from Leila Benali, minister of energy transition and sustainable development for the Government of Morocco and Ian Meikle, director for clean growth at Innovate UK, setting out their stalls for what needs to be done to speed the transition to net zero.
Other sessions included Heather Buchanan, co-founder of Bankers for Net Zero, highlighting the critical challenge of unlocking the vast quantity of capital required to enable the transition to a zero-carbon economy and a very insightful discussion on Towards Zero Carbon Aviation, which featured John Holland-Kaye, CEO of Heathrow Airport, Holly Boyd-Boland, vice president of corporate development and chief of staff at Virgin Atlantic, James McMicking, chief sustainability officer at ZeroAvia, Paul Hutton, CEO of Cranfield Aerospace Solutions and Freya Burton, chief sustainability officer at LanzaTech.
Leading players in the sector also represented during day one included Deloitte, Octopus Energy, Rolls Royce, bp, Foster and Partners, Ecotricity, Akins, Ilke Homes, 8 Rivers, OFGEM, Sizewell C, RenewableUK, Siemens Energy, Zenobe, the UK Infrastructure Bank, Klarna and EY. The line-up was truly a veritable Who's Who of the organisations and companied leading the charge in the fight against climate change and attendees certainly had their work cut out attending all the sessions of interest spread across multiple themed spaces at Innovation Zero.
Underlining the high-level government support for Innovation Zero, there was also a keynote address from Oliver Dowden, the deputy prime minister, who highlighted unlocking the "huge prize to be won" in net zero goods and services. Dowden said that this will require "unprecedented levels of investments" of an additional £50-£60bn each year through the coming decades and continued "pitching the UK as a land of green opportunities."
Dowden said that the UK was already off to a strong start. "We've already committed to policies and ambitions that will leverage around £100bn of private investment. That is money that will finance new industries and innovative low carbon technologies and which in turn is expected to support up to 480,000 green jobs by 2030," he said. "We're developing a strong green industrial base across the country, in tribute to our rich manufacturing and engineering heritage," Dowden concluded.
As visitors streamed away at the end of day one, a clear theme from many was an appreciation of being part of an important event that offered a unique opportunity to collaborate and potentially partner with some of the most innovative organisations out there in the area of net zero and sustainability.
With more of the same planned for day two of Innovation Zero, visitors are set for another day of cutting-edge insight into net zero trends, the latest thought leadership and the innovation being developed to decarbonise supply chains and make a better world.