16 Jan 2023
A Snapshot into UK Climate-tech Innovation | Dec 22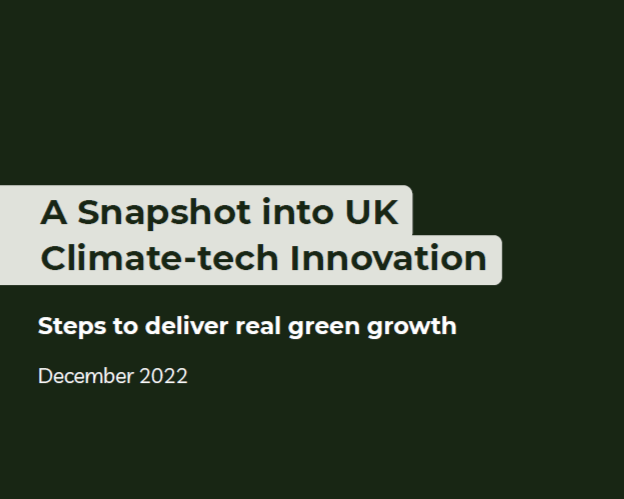 The State of Climate-tech Today:
Entrepreneurs are turning their attention to some of the greatest challenges humanity has ever faced, whilst seizing an almighty opportunity. Innovators across the UK are seeking to mitigate the impact of climate change by decarbonising the economy root and branch, as well as reducing other impacts such as biodiversity, particulate pollution, eutrophication, and water and land use. And, as climate change is already impacting societies today, founders are developing adaptation tools and technology at pace to minimise disruption caused by already locked-in climate change.
The UK's net zero ecosystem already contributes around £60bn per year to the UK economy, supporting over 760,000 jobs. Investors agree that climate-techs present an opportunity, ploughing $222bn into the sector between 2013 and 2022. The UK is a hotspot for climate-tech innovation today, powered by an established venture capital ecosystem, world-class regulations, and impatient, talented entrepreneurs. After the Bay Area in California, London is the most active climate-tech hub in the world.
But this new economy is being stalled.
While the onus is on climate-techs to prove their value to the market, the existing policy and regulatory regime in the UK features numerous barriers to climate-tech innovation, particularly around scaling and deployment. These hamper climate-tech entrepreneurs and stunt the chances of the UK seizing the opportunities of the next economy.
The Climate-tech Policy Coalition was created to shine a light on the issues with this incumbent regime, and crystallise a selection of tangible actions that the Government can take to reduce or remove systemic barriers.