07 Mar 2023
Racing for Better Futures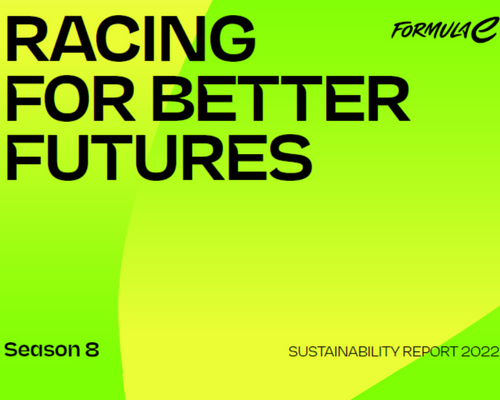 Season 8 of the ABB FIA Formula E World Championship was our most ambitious and exciting calendar to date. Sixteen races took place around the world, from Mexico City to Seoul and in cities both familiar and new to the Championship calendar.
We continued to build on our efforts to highlight and tackle the most pressing issues facing society today, driving home our message of accelerating sustainable human progress in the race for better futures.
Key Achievements:
GEN3 Car - The GEN3 race car was a hotly anticipated announcement and highlight of Season 8. Unveiled at Yacht Club de Monaco ahead of the 2022 Monaco E-Prix, it is the fastest, lightest, most powerful and efficient electric race car to take to the track. The GEN3 race car lies at the intersection of high performance, efficiency and sustainability and will be officially debuted in Season 9.
UNICEF Partnership - As part of our partnership with UNICEF and commitment to the Safe and Healthy Environment Fund (SHE), Season 8's "Take A Breath" campaign with Tom Hiddleston highlighted air pollution as a growing issue that affects millions of children in every region of the world.
Net Zero Carbon - To offset the carbon footprint of our 8th season, the Piedra Larga Wind Farm II is our renewable energy project to bring clean energy and economic development to the communities we serve. Based in Oaxaca, Mexico, the project contributes to five of the UN Sustainable Development Goals for its ability to provide clean energy, create jobs and make progress towards climate action.
GSBS Ranking - The GSBS ranked us at the Best Total Performer in the 2022 Global Sustainability Benchmark in Sports, with a record-breaking benchmark score of 80/100 for Top Performer in Sustainability and wins in three out of four categories, including Best Corporate Performance, Best Environmental Performance and Best Governance Performance.
Sustainability Strategy
At the start of Season 7 we refocused our sustainability strategy around four pillars to maintain our leadership in driving sustainable human progress. Season 8 further demonstrated the power of this strategy to deliver better futures through the power of electric racing.
Innovation and Leadership - Reinforce our leadership, brand reputation and credibility through the adoption of the best internationally recognised standards for sustainable event management and environmental excellence in sporting events.
Environmental Excellence - Implement the United Nations Sustainable Development Goals within our environmental strategy and align our carbon emissions with climate science.
Social Progress - Build more inclusive, resilient, and diverse communities within our host cities through the implementation of our strategic engagement plan.
Creating Value Through Values - Enhance our teams' and partners' visibility and reputation by developing bespoke sustainability campaigns and activations.
Source: Racing for Better Futures