11 May 2023
The Recruitment Market for Sustainability and Environment, Social & Governance (ESG) professionals in 2023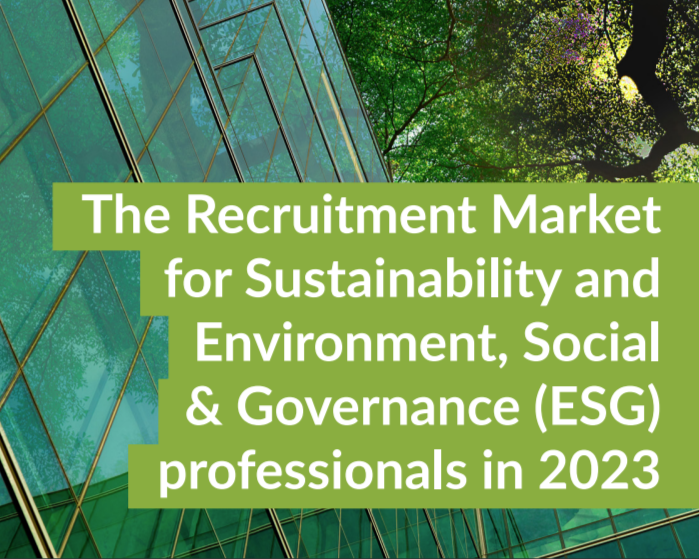 "Welcome to the Allen & York Recruitment Market for Sustainability and Environment, Social & Governance (ESG) professionals in 2023 white paper.

Based on our 30 year history within Executive Search & Recruitment, within this paper we highlight our experience of Sustainability & ESG recruitment. With comment and analysis on the market, supply vs demand trends, the evolution of the sector right through to salaries and predictions for the 2023 and beyond, we hope this round-up provides insight into this fascinating hiring market and prepares you for the recruitment challenges ahead." - Lester Lockyer, Managing Director, Allen & York

Whilst 2021 showed a marked change in commercial interest in the sustainability and climate change agendas, 2022 will surely go down as the year that things really took off.
With increased global attention on climate change, COP's 26 and 27 under the belt, an energy crisis and global supply chains still recovering from COVID, there is much to concentrate the mind. What is now very clear is that the positioning of Sustainability and ESG has changed significantly - and not before time!
With 30 years' experience, starting in a nascent Environmental market in 1993, Allen & York has grown around this developing agenda and observed the demand for specialist personnel evolve over that period. Myself and my longstanding colleagues are agreed that 2022 has seen both a demand growth and increase in nuance like no other year in that 30-year period.
This bodes well for the furtherment of the sustainability agenda, offering the hope of making significant progress in the coming years. What this increased demand has done is create some new challenges and dilemmas for our clients and candidates.
ESG in 2023 and Beyond
2023 is certain to see further developments and increase in the pace of developments in ESG, Sustainability and the Responsible Business arena. Corporate ESG strategies are being formed and seek additional resources and new skills to add to the established frameworks. The increased focus on ESG has brought the sustainability agenda into the boardroom, onto the balance sheet, into HR, Marketing and Procurement and Supply Chain. Almost no part of the traditional business structure goes untouched. Requiring some work to establish where the pieces of the jigsaw sit and how to arrange them.
Source: The Recruitment Market for Sustainability and Environment, Social & Governance (ESG) professionals in 2023