24 May 2023
Innovation Zero chair Liam Fox hails "brilliant buzz" around climate change expo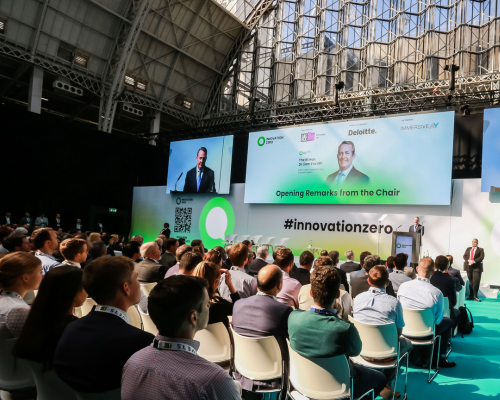 Speaking to journalists at the inaugural Innovation Zero congress at London's Olympia on 24 May 2023, event chair Dr Liam Fox MP has hailed the success of a gathering that has created a "brilliant buzz and excitement" amongst attendees, speakers and exhibitors.
Fox told journalists that the original thinking behind Innovation Zero was to discuss the government policies and legislative and financial framework needed to underpin the energy transition and for the UK to seize the opportunity to demonstrate innovation and leadership in decarbonising our economies and societies.
Highlighting the need for a positive mindset in the fight against climate change and to achieve decarbonisation, Fox said that it was important to "move away from telling people what they can't do to what they can do". He said that the Innovation Zero congress had demonstrated that there was massive enthusiasm and excitement for grasping the opportunities involved in connecting leaders from all sectors to accelerate the low-carbon transformation.
Continuing the positive theme, Fox said it was significant that the UK was a leading destination for foreign direct investment and that this reflected the attractiveness of the UK economy on the world stage due to its favourable legal and regulatory framework. The financial challenge now, Fox said, was to ensure that the scale-up finance was readily available to support companies and innovations and that events like Innovation Zero were absolutely crucial in bringing the key players across the sector together to collaborate, build new partnerships and develop workable and sustainable solutions for the future.