28 Mar 2023
Financing the Transition: How to Make the Money Flow for a Net-Zero Economy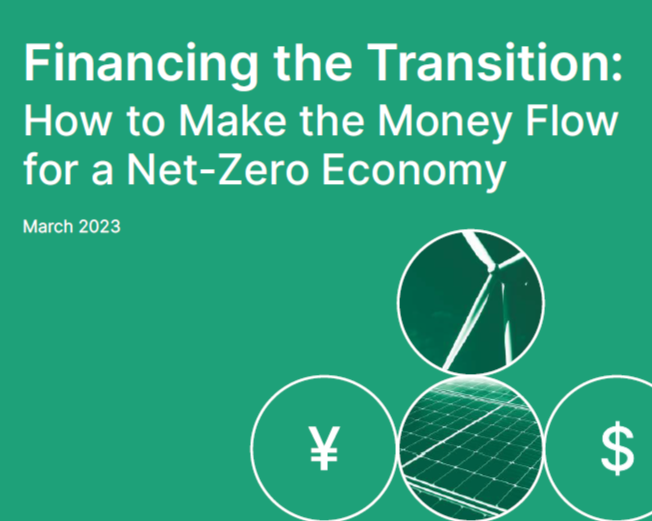 The Energy Transitions Commission (ETC) is a global coalition of leaders from across the energy landscape committed to achieving net-zero emissions by mid-century, in line with the Paris climate objective of limiting global warming to well below 2°C and ideally to 1.5°C.
Global warming poses severe risks to communities and ecosystems this century. To limit it to 1.5°C, the world must reduce CO2 emissions to around net-zero by mid-century, with a decline of at least 40% achieved by 2030. Many countries and companies are therefore now committed to achieving net-zero by mid-century.
In a series of major reports over the last six years, the Energy Transitions Commission (ETC) has demonstrated how net-zero emissions can be achieved across all the energy, building, industry and transport sectors of the economy. Massive clean electrification must be at the core of decarbonisation pathways, combined with a range of complementary technologies, including clean hydrogen, sustainable bioenergy, and carbon capture and storage. In addition, as set out in the ETC's recent report Mind the Gap, significant carbon dioxide removal will be required to drive net emissions down fast enough to meet the 1.5°C objective. Achieving this technologically feasible transition requires large-scale investment and in some cases international financial flows.
Several organizations have analysed key aspects of the financing challenge. Reports by IEA, IRENA, BNEF and others have presented detailed estimates of the investment required to transition to a net-zero economy. The Independent High-level Expert Group on climate finance, chaired by Vera Songwe and Lord Nicholas Stern, has described the need for greatly increased financial flows to lower-income countries and recommended actions which could achieve this; and the Blended Finance Taskforce has proposed ways in which public development finance could leverage additional private finance.
Source: Financing the Transition: How to Make the Money Flow for a Net-Zero Economy