31 Oct 2022
Cleantech 50 To Watch 2022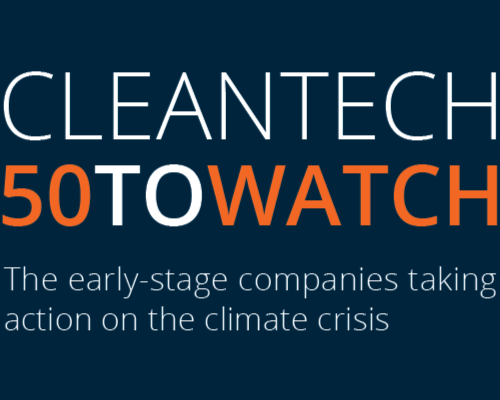 "We are heading in the wrong direction."
This was the key message from the World Meteorological Organization's recent multi agency report on the state of climate change. Natural disasters are increasing in both frequency and intensity—2022 alone experienced floods, wildfires, droughts, tornados, heatwaves, and
landslides to count a few. Europe, Pakistan, United States, Australia, South Africa, Chad—the story is the same everywhere.
Simply put, we are not doing enough to prevent a catastrophic tipping point.
To limit global warming to 2 °C, current 2030 mitigation pledges need to be 4 times higher (United in Science, 2022). After the pandemic induced outlier dip in CO2 emissions, global fossil CO2 emissions have rebounded to record-high levels. Ocean Heat Content is also at an all-time high, posing a significant threat to coral ecosystems. Glacial mass is rapidly decreasing, increasing flooding risk and affecting millions of people.
But we have reason to be optimistic.
Climate change is evident now more than ever—individuals, companies, governments are becoming increasingly aware of their contribution to climate change, as well as the effort needed to mitigate their impact. Sustainability is becoming a core principle of business models, emphasizing the need to integrate environmental-conscious practices in all aspects of operations.
Solutions and technologies needed to reach our climate goals already exist and have proven to be profitable.
Clean technologies such as renewable energy, electric vehicles, carbon management and recycling are now mainstream, but further policy work and infrastructure is needed to drive efficient mass adoption on a scale large enough to keep us on track. Early-stage solutions need continued support from investors, corporates, and governments to develop and scale to make an impact.
The fourth publication of the Cleantech 50 to Watch continues to highlight and applaud the early-stage companies bringing forth state-of-the-art solutions; this year in carbon capture, regenerative agriculture, water scarcity, circularity, energy and mobility. With valuable input from 31 leading specialists, the 2022 list is at least 50% diverse and 40% female founded. All of them are addressing crucial challenges and have the potential to shift us in the right direction.

The sprint to net zero is indeed on - view the full report here.