25 May 2023
"The UK is leading the world on climate change," net zero minister tells Innovation Zero attendees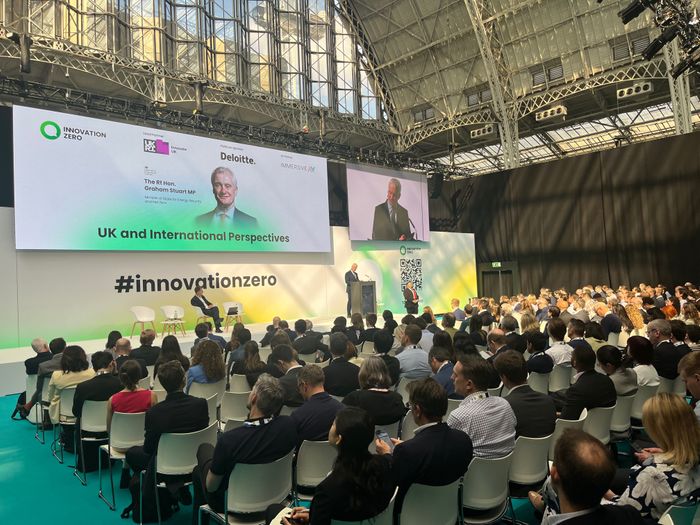 Addressing journalists at Innovation Zero, following the delivery of an upbeat update on the government's drive to achieve net zero, the Rt Hon. Graham Stuart MP, Minister of State for Energy Security & Net Zero said that the whole political establishment was totally committed to achieving all its climate targets and was leading the world on the issue.
The minister offered a robust defence on government policy and intent on all issues related to net zero, saying that the UK's leadership role in this area was a testament to the skill, innovation and ingenuity of companies, organisations and individuals that had stepped forward and taken advantage of the opportunities arising from the huge upfront investments being made in sustainable technologies and clean tech.
Stuart told journalists that there should be no doubting the government's commitment to net zero given that it had met all its most recent climate targets. "The world is following the UK's lead and although other countries might not be moving as fast as we would like, they are moving in the right direction and that's a positive thing," he said.
Speaking earlier in a keynote address on day two of Innovation Zero on 25 May 2023, Stuart again hailed the leadership role of the UK, citing its rapid move from delivering electricity from renewables from 7% in 2010 to 58% today. "We really are leading the world and engaging internationally because we can't do this on our own. Everyone needs to work together, but make no mistake, we can do this," he told a packed audience in the main hall at the congress at London's Olympia.
He also claimed that UK companies were well placed to take advantage of "the greatest economic opportunity of the century" and that UK innovation, science and technology was world leading and helping to ensure the country's preeminent position on net zero. Stuart said that position would be solidified further with government plans for a quadrupling of wind energy capabilities and the increased application of floating technologies which had the potential to transform the UK's position even further.
Stuart's confident and upbeat assessment on the UK government's progress to net zero was welcomed by visitors and attendees at Innovation Zero. The sense of a sector 'all in it together' was clearly in evidence around the many exhibition stands and in the main presentation rooms during a packed second day of the inaugural climate change congress.