20 Apr 2023
Kellas Midstream and RWE announce partnership to explore green hydrogen production on Teesside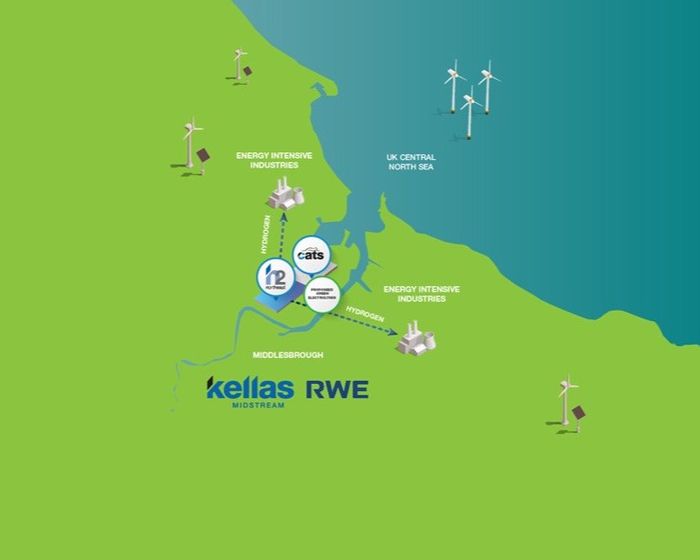 Kellas Midstream, a UK based independent energy infrastructure company, and RWE, the UK's largest power generator, have announced a partnership to explore the potential for large-scale green hydrogen production on Teesside, an area committed to playing a vital role in helping the UK achieve its 2050 net zero ambitions by becoming one of the world's first decarbonised industrial clusters through the production, consumption, and export of low carbon hydrogen.
Kellas and RWE have signed a Memorandum of Understanding (MoU) to jointly progress opportunities for gigawatt-scale green hydrogen production on Teesside in a phased development matched to customer demand. The hydrogen production site will be located in Teesside close to emerging hydrogen infrastructure and will leverage each of the company's leading positions in energy infrastructure and renewables.
Hydrogen has a crucial role to play in achieving net zero and is an essential component to decarbonise industry. Teesside is the perfect location to deliver the green hydrogen development as it is close to industry that needs to decarbonise and a growing offshore wind pipeline.
Kellas owns, manages, and operates a portfolio of critical energy infrastructure in the Central and Southern North Sea, including its CATS (Central Area Transmission System) terminal on Teesside that transports and processes around a quarter of all UK gas production. CATS is also the location for Kellas' ground-breaking H2NorthEast blue hydrogen project that will deliver over 1GW of low carbon hydrogen and contribute as much as 10% of the UK's target hydrogen production by 2030.
RWE is proactively investigating hydrogen opportunities across the UK including the potential development of green hydrogen plants at Pembroke, Didcot and in Markinch near Fife. The company has a wealth of knowledge and experience in the development of green hydrogen projects across Europe including involvement in GET H2 and Hollandse Kust West. The company is targeting 2GW of green hydrogen development in its core markets by 2030.
Nathan Morgan, Kellas CEO, said "We are delighted to announce this partnership with RWE, an organisation that shares our drive and commitment to actively shape the future of the hydrogen economy and help our stakeholders achieve their net zero ambitions. There are real synergies between green hydrogen production and our core energy infrastructure activity, and we aim to leverage our leading position on Teesside, through our CATS facility and emerging blue hydrogen activity, as part of our collaboration with RWE."
Sopna Sury, COO Hydrogen, RWE Generation, said "This partnership with Kellas is an exciting development in RWE's green hydrogen plans, with ambitions to invest £15 billion in the UK in suitable and cost-effective green energy projects by 2030. Projects like the Teesside development will help Government achieve its target for 10GW of low carbon hydrogen production and play an essential role in the pathway to net zero, particularly in hard to decarbonise industry. We are committed to playing a full part in the delivery of this emerging technology in the UK, and at the same time creating skilled green jobs."

Tees Valley Mayor, Ben Houchen, said "This is another big step forward for hydrogen production on Teesside. Our region already produces around half of the UK's hydrogen and we're on track to become one of the world's first decarbonised industrial clusters by 2040. It's great to see that our growing hydrogen infrastructure is attracting yet more massive international companies that will drive forward the UK's clean energy ambitions and – vitally – create good-quality, well-paid jobs for local people in the cleaner, safer and healthier industries of the future."
More on Kellas Midstream here.