06 Apr 2023
First-in-class carbon accountancy methodology for the preservation of the marine environment approved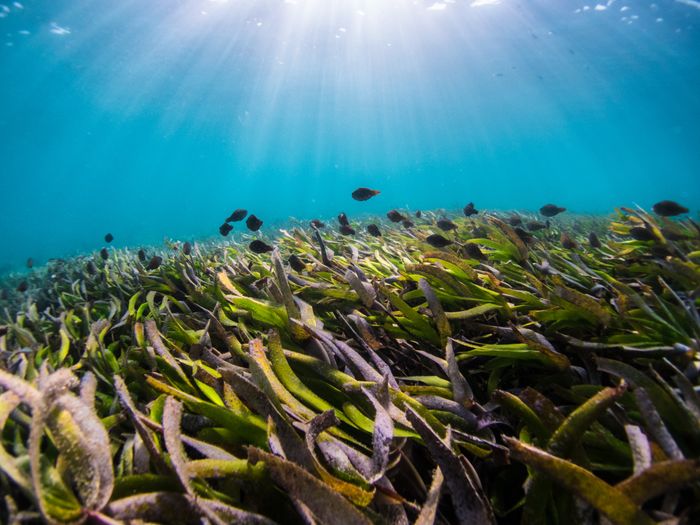 Press Release
London, United Kingdom, 6th April 2023 – Today, EcoAct, an Eviden business, Digital Realty France, Schneider Electric France and the Calanques National Park announce the establishment of the first carbon accounting methodology in Europe dedicated to the protection of seagrass beds, which play a major role in regulating the climate and preserving global biodiversity.
The "Prométhée-Med" research project has resulted in the first low-carbon labelling methodology dedicated to the protection of the marine environment, and its implementation should represent a potential reduction of 24,000 tCO2e/year on average. By ensuring a methodology is in place which aligns with best practice, the project can support climate action taking place at the rate required by the science.
This first-in-class methodology paves the way for the effective preservation of an important carbon stock and a key natural habitat of the Mediterranean - the Posidonia meadows - and has been approved by the Directorate General for Energy and Climate (DGEC) of the Ministry for the Ecological Transition in France.
The new methodology aligns with the crucial industry need to provide high-integrity carbon credits and establishes a pathway towards even higher ambition, such as that seen in the Core Carbon Principles launched by The Integrity Council for the Voluntary Carbon Market last week. By ensuring rigorous standards, the necessary levels of investment can be met to fully realise the role of carbon markets in accelerating the net-zero transition and scaling solutions.
"This project is the concrete proof that public-private partnerships can leverage technical expertise, such as that carried out by EcoAct's teams, and help advance the protection of marine biodiversity through innovative financing mechanisms", says Emilie Alberola, Director of EcoAct Southern Europe.
More broadly, the project will help to preserve the coastline, as seagrass beds help to slow down coastal erosion, and the marine environment where seagrass beds are a key habitat in the Mediterranean ecosystem.
"By hosting the "Prométhée-Med" project, born in Marseille from the intersection of the National Park's preservation challenges and the private sector's willingness to commit to the ecological transition, the Calanques National Park confirms its position as a territory turned towards innovation and the search for global solutions in favour of biodiversity preservation and the ecological transition. With the methodology now approved, the National Park is currently working, in conjunction with the territory's local authorities, on a project to be submitted to the Ministry for the Ecological Transition, which we hope will enable us to integrate the carbon market as a beneficiary. The aim is to mobilise funding to set up, manage and monitor the anchorage and light equipment zones defined as part of our overall anchorage organization plan", says Gaëlle Berthaud, Director of the Calanques National Park.
"As the world's leading provider of colocation data centre solutions, with offices in Paris and Marseille, we are proud to have been at the forefront of this project alongside the Calanques National Park. "Prométhée-Med" is the first carbon accounting methodology in France and in Europe dedicated to the protection of seagrass beds. We are pleased to have contributed to the development of solutions for the protection of the environment in the region", says Fabrice Coquio, SVP Digital Realty, President of Digital Realty France.
"The project convinced us from the outset, as it's fully aligned with Schneider Electric's environmental agenda. When we carry out economic development projects, we accompany our customers in their decarbonisation and in the preservation of biodiversity. As a global player with a local focus, we are proud as a French company, to have supported this project, which started at the heart of the Calanques Park and combines the preservation of marine ecosystems with carbon sequestration. Our support should enable it to be extended to other regions", says Hélène Macela-Gouin, VP Secure Power, Schneider Electric France.
In addition to the support of this group of environmental and digital players, the "Prométhée-Med" project has counted on the results of several institutions from the academic and scientific arena: the University of Corsica Pasquale Paoli, the GIS Posidonie – Corsica Centre and the Mediterranean Institute of Oceanography (MIO) - Aix-Marseille University.
"I like this project because it combines the essential protection of Posidonia oceanica meadows, the ecosystem services they provide (including carbon sequestration) and complex (for me) but essential economic tools", says Charles-François Boudouresque, Professor Emeritus at the MIO.
ENDS
3
Notes to editors: The protection of seagrass beds: a methodology with multiple challenges and benefits
Based on the project's projections, the challenges and potential of protecting Posidonia meadows in France to achieve carbon neutrality are considerable:
- A surface area to be considered spread over more than 80,000 hectares1 in the southern regions of Provence-Alpes-Côte d'Azur, Occitania and Corsica.
- The current rate of regression of the Posidonia is estimated at 0.29% per year on average2.
- The carbon stocks to be protected (in tonnes of carbon) represent 327 tC/ha (conservative value)3.
- A carbon emission reduction potential estimated at 24,000 tCO2e/year on average (or 700,000 tCO2e over 30 years for 80,000 ha) - a considerable volume compared to the 465,000 tCO2e included to date in all current Low-Carbon Label projects4.
The project also covers various socio-economic dimensions. Specifically, this methodology can enable project leaders to implement several actions, such as: setting up anchorage areas and light equipment, job creation (in particular to ensure the surveillance of the water body and compliance with anchorage rules) and training at local level, as well as raising the population's awareness of the protection of the meadows and the banks of dead leaves on the beaches, etc.
Despite its status as a protected species, the preservation of Posidonia meadows remains insufficiently ensured. Since 2019, French public authorities have initiated a strong dynamic aimed at better protecting this key Mediterranean habitat by strengthening the regulatory measures taken by the Mediterranean Maritime Prefecture. The Low-Carbon Label is thus an essential lever to strengthen this dynamic and mobilise more resources to finance concrete actions that will ensure effective protection. It accompanies thereby France's ambitions in terms of creating marine protected areas and strong protection zones.
Why it is important to protect seagrass beds
Seagrass beds play a major role in regulating the climate and preserving global biodiversity. Highly diverse and productive, these ecosystems provide important ecological functions (nurseries, etc.) and are home to between 4 and 18% of marine species, although their surface area represents less than 2% of the total surface area of the oceans.
Endemic to the Mediterranean, the Posidonia meadow (Posidonia oceanica) also plays a key role in maintaining the biological and physical balance of this semi-enclosed sea. It is also distinguished by its exceptional capacity to store carbon. Indeed, the meadow stores up to 700 tonnes of carbon per hectare5, i.e., 3 to 5 times more than
1 Medtrix (2019).
2 Telesca et al (2015). This value, calculated from a part of the Mediterranean regions, is considered as overestimated by Boudouresque et al. (2021): Boudouresque C.F., Blanfuné A., Pergent G., Thibaut, T., 2021. Restoration of Seagrass Meadows in the Mediterranean Sea: A Critical Review of Effectiveness and Ethical Issues. Water, 13 (1034): 1-35.
3 Monnier, B., Pergent, G., Mateo, M. Á., Clabaut, P., & Pergent-Martini, C. (2022). Quantification of blue carbon stocks associated with Posidonia oceanica seagrass meadows in Corsica (NW Mediterranean). Science of The Total Environment, 155864.
4 Ministry for the Ecological Transition in France.
5 Monnier B., Pergent G., Mateo M.Á., Clabaut P., Pergent-Martini C., 2022. Quantification of blue carbon stocks associated with Posidonia oceanica seagrass meadows in Corsica (NW Mediterranean). Science of The Total Environment, 838, 155864, DOI: 10.1016/j.scitotenv.2022.155864.
4
tropical forests, and up to 7 times more than a French hardwood forest
6, over millions of hectares and over hundreds of years. Seagrass beds also provide important ecosystem services by helping to protect the coastline from erosion, supporting coastal fisheries, and acting as a filter in the water column.
Climate change, seabed artificialisation, pollution, poor fishing practices and anchoring by ships that pull up the plants with their anchors are among the main factors in the loss of seagrass beds. Their degradation - in addition to destroying key ecosystems - therefore causes a significant destruction of carbon stocks. Their regeneration, on the other hand, increases these stocks.
# # #
About EcoAct
EcoAct, an Eviden business, is an international climate consultancy and project developer that supports companies to set robust science-aligned net-zero strategies and achieve their climate targets. Founded in France in 2006, the company now spans three continents with offices in Paris, London, Barcelona, New York, Montréal, Munich, Milan and Kenya. With a team of more than 360 international climate experts, EcoAct's core purpose is to lead the way in delivering sustainable business solutions that deliver true value for both climate and client. EcoAct is a CDP Gold Partner, a founding member of ICROA, a strategic partner in the implementation of the Gold Standard for the Global Goals and reports to the UN Global Compact. To learn more, visit www.eco-act.com.
About Eviden7
Eviden designs the scope composed of Atos' digital, cloud, big data and security business lines. It will be a global leader in data-driven, trusted and sustainable digital transformation. As a next generation digital business with worldwide leading positions in digital, cloud, data, advanced computing and security, it brings deep expertise for all industries in more than 53 countries. By uniting unique high-end technologies across the full digital continuum with 57,000 world-class talents, Eviden expands the possibilities of technologies for enterprises and public authorities, helping them to build their digital future. Eviden is an Atos Group business with an annual revenue of c. € 5 billion.
About Digital Realty
Digital Realty brings businesses and data together by providing a suite of data centre, colocation and interconnection solutions. PlatformDIGITAL®, its global data centre platform, provides customers with a secure data exchange location and a proven Pervasive Datacenter Architecture PDx solution methodology that enables innovation and addresses data gravity challenges. Digital Realty provides its customers with access to key connected communities through its global coverage of over 300 data centres in 50 cities, 27 countries and six continents. To learn more, visit digitalrealty.com and join their community via LinkedIn and Twitter.
About Schneider Electric
Schneider's purpose is to empower all to make the most of our energy and resources, bridging progress and sustainability for all. At Schneider, we call this: Life is On.
Our mission is to be your digital partner for Sustainability and Efficiency.
We drive digital transformation by integrating world-leading process and energy technologies. We provide end-point to cloud integration connecting products, controls, software and services. We enable lifecycle solutions from design and build to operate and maintain phases through a digital
6 To give an order of magnitude, based on data from the French Environment and Energy Management Agency (ADEME) Aldo tool, we can estimate that one hectare of seagrass stores up to 7 times more carbon than a French hardwood forest.
7 Eviden business is operated through the following brands: Agarik, Alia Consulting, AppCentrica, ATHEA, Atos Syntel, Bull, Cloudamize, Cloudreach, Cryptovision, DataSentics, digital.security, Eagle Creek, EcoAct, Edifixio, Energy4U, Engage ESM, Forensik, IDEAL GRP, IDnomic, In Fidem, Ipsotek, Maven Wave, Miner & Kasch, Motiv, Nimbix, Processia, Profit4SF, science+computing, SEC Consult, Visual BI, Worldgrid, X-Perion, zData
Legal Mentions Eviden™ and the Eviden logo are trademarks of Bull S.A.S © 2023 Bull S.A.S.
5
twin. We deliver capabilities to transform from site-to-site to an integrated company management. Our integrated solutions are built with safety, reliability and cybersecurity for your homes, buildings, data centres, infrastructure and industries.
We are the most local of global companies. We are advocates of open standards and partnership ecosystems to unleash the infinite possibilities of a global, innovative community that is passionate about our shared Meaningful Purpose, Inclusive and Empowered values. www.se.com
About Calanques National Park
Created in 2012, the Calanques National Park's mission is to protect, welcome and transmit to future generations the exceptional heritage of its territory. The Calanques take pride of place at the heart of the Aix-Marseille-Provence metropolis - and this is Europe's only national park straddling land, sea and suburbs. It is one of the world's biodiversity hotspots and is home to 200 protected species on land and at sea. To find out more about the park, visit www.calanques-parcnational.fr and join their community via Twitter, Facebook and Instagram.
Press contacts
EcoAct
Isabel Fernández de la Fuente — +44 (0) 7485 365 321 — isabel.fernandezdelafuente@atos.net
Digital Realty
Oxygen RP — Cédric Damour — +33 (0) 784 210 220 — cedric.d@oxygen-rp.com
Emmanuelle Pionnier — +33 (0) 609 091 506 — emmanuelle.rp@oxygen-rp.com
Digital Realty France — Claire Chadourne — +33 (0) 699 209 085 — clairec@digitalrealty.com
Calanques National Park
Zacharie Bruyas — +33 (0) 764 198 517 — zacharie.bruyas@calanques-parcnational.fr
Schneider Electric
Wellcom — schneiderelectric@wellcom.fr
Schneider Electric France — Andrée Clar — +33 (0) 685 810 878 — andree.clar@se.com