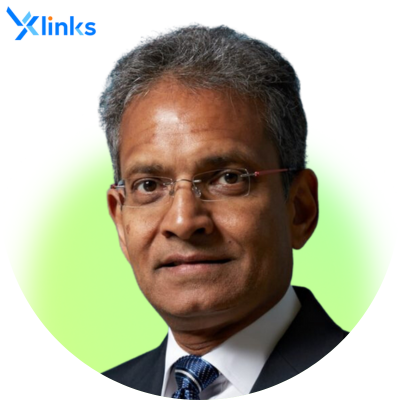 Paddy Padmanathan
Paddy Padmanathan led ACWA Power from its startup phase 18 years ago and transformed it into a globally recognized company at the forefront of the energy transition. It is listed on the Saudi stock exchange with a market capitalization of over US$25 billion.

Under his leadership, ACWA Power has today become a leading developer, investor, and operator of power generation, water desalination, and green hydrogen plants, valued at US$75 billion. The company has a significant track record in large scale solar and wind energy development, and is a leader in water desalination, serving millions of people around the world. It is now making strides in the production of green hydrogen with the first plant at scale currently under construction.

After serving as President & CEO, Padmanathan has stepped down from his executive position to pursue his own business ventures – principally now Vice Chairman of Xlinks. However he continues to serve as a member of ACWA Power's Board.

Padmanathan's unwavering commitment to renewable energy and addressing the impending potable water crisis are enabling significant changes in the industry, creating opportunities for sustainable growth and progress towards a greener future.
He holds an engineering degree from the University of Manchester and a postgraduate qualification in civil engineering from the University of Lancaster.