Climate Commitments Survey: 98% of SMEs see benefits to setting environmental targets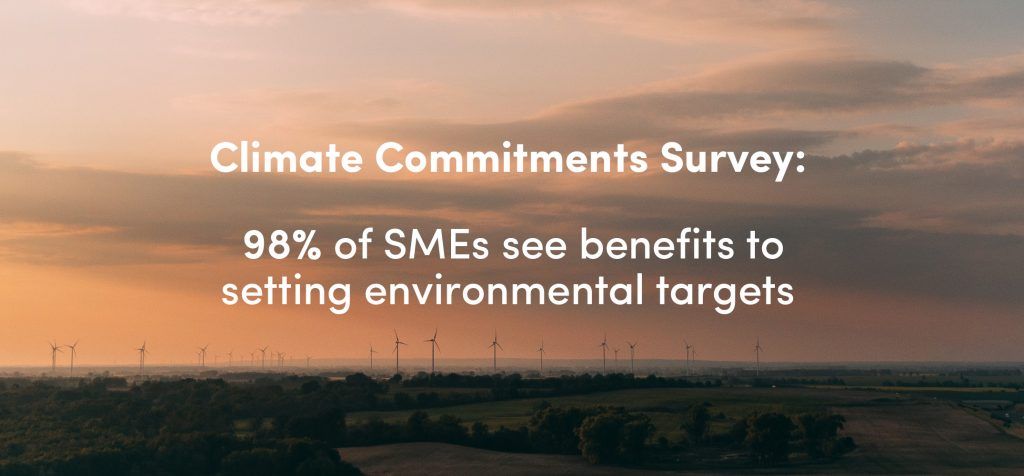 SMEs (small and medium-sized enterprises) make up 99% of the UK's business population and contribute half of all business-driven carbon emissions in the UK.
The untapped potential for climate action with SMEs is huge! Even the smallest of actions could make a real difference when taken by thousands of SMEs acting together, whether it's measuring emissions or switching to renewable energy.
But knowing where to start on the climate journey can be hard for SMEs, and creating a credible decarbonisation strategy takes time, knowledge, and resources. That's why we launched our Climate Commitments Survey.
We gathered insights from 1,000 UK SME owners and decision-makers to understand the challenges, opportunities and barriers they face in their journey to net-zero. The survey was carried out in January 2023 in conjunction with the British Business Bank, who advised on survey design, and research analysis and Market research agency OnePoll.
SMEs are ready to do their bit for our planet
Our survey found that SMEs are committed to doing more to protect the planet, and ready to reap the business benefits of doing so. Of those that had set environmental targets, almost all (98%) had experienced some business benefits. These range from improved brand image (43%), attracting more eco-conscious customers (38%), increased productivity and innovation (37%) and employee loyalty (34%), with over a third (31%) seeing increased revenue. Over three quarters (77%) of business leaders also agreed that having an environmental strategy is good for business.
SMEs have some key barriers to overcome on their climate journey
Despite the commitment to do more, and the acknowledgement that sustainability is good for business, financial constraints (39%), time (27%), and a lack of business return (24%) are the biggest barriers SMEs face in taking climate action. Barriers like these are even harder to overcome during an economic downturn, but reassuringly, despite 25% saying the tough economic conditions are having a negative impact on their environmental commitments, only 3% plan to decrease investment in them.
SMEs have the desire to get to get to net-zero, but need a little help
There is a clear desire to get started on the path to net-zero, and clearly many more SMEs would take action if it was more straightforward and accessible. More than four in 10 (41%) of SMEs said they would like their business to have a net-zero strategy, but feel confused about how to get started. It's also encouraging to see that 80% of SMEs have either measured their carbon footprint or plan to in the near future, and that 52% would calculate their carbon footprint if it was free and straightforward to do.
The desire is clearly there. Now we need to make sure SMEs have the tools and support they need to start their net-zero journey, particularly with corporate sustainability commitments coming under increasing scrutiny and tighter regulation around the corner.
SMEs can lead the sustainable revolution
While challenges remain, our survey found plenty of reasons to be hopeful. It's clear to take action on the climate crisis, we need to make sure that every SME, no matter how small, has access to affordable and easy-to-use tools and solutions. From measuring their carbon footprint, to setting targets and reducing emissions, all the way through to funding the best in climate action projects on the planet.
At Ecologi, we've designed a suite of products and services, custom-made to help SMEs on their journey to net-zero:
Ecologi Zero® – The free and easy-to-use carbon footprinting tool for small and medium sized enterprises.
Climate Positive Workforce® – A simple but impactful way to offset your team's emissions while funding climate solutions and planting a company forest.
The Impact Shop – Browse and fund the very best climate solutions at the click of a button through our pay-as-you-go store for positive climate impact.
Ecommerce and integration – Plant a tree for every sale, product or new team member with our Shopify, Zapier and API integrations.